Regular price
Sale price
$1.00 USD
Unit price
per
Sale
Sold out
Share
View full details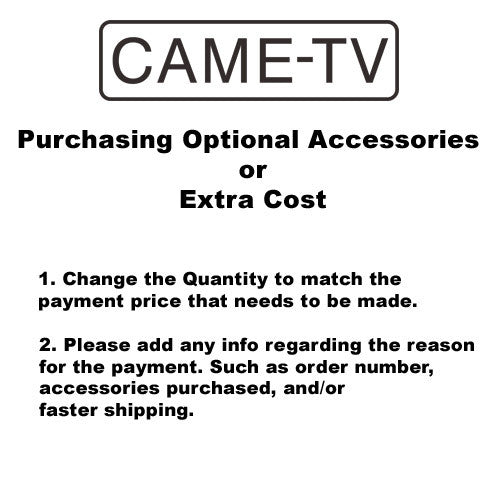 There are times when customers would like to purchase optional accessories only available with certain purchases, request a faster shipping time, or other extra costs.
To make that possible, we have created this listing for payment for such options.
Instructions
To make a purchase on an optional accessory or another extra cost, you would need to change the Quantity to the price amount.
For example: If you are paying for an item that is $48 USD, you would change the Quantity to 48 and add to cart. Since this listing is for $1 x Qty 48, it would come out to $48 and etc.
Please leave a note in the cart stating what you are purchasing along with the Order # so our warehouse can make the follow additions. 
Please Note:
1. This item is for customers who bought an item, and the item purchased has optional accessories in the description or use for some country to add extra shipping cost.
2. The optional accessories will be send together with the main order product. If you want it sent separately, then additional shipping cost is needed.
If you have any questions, please feel free to Contact Us Here>>