Regular price
Sale price
$65.00 USD
Unit price
per
Sale
Sold out
Share
View full details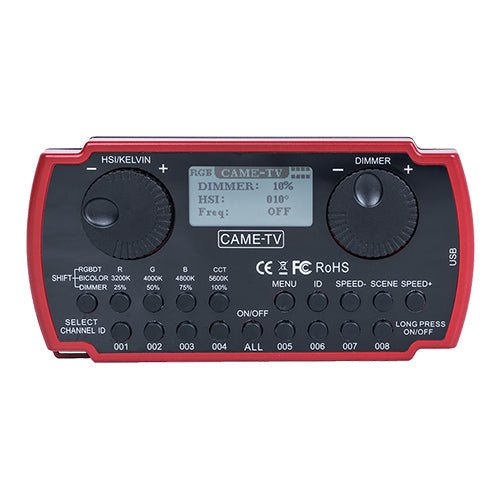 PRODUCT INFORMATION
The Boltzen LED Commander is a remote that can control the following BOLTZEN LED lights:
Q Series
Perseus
Andromeda
Cassiopeia
Compatible with RGBDT, BI-COLOR and DAYLIGHT versions
Can control lights up to 20 meters (65 ft) away
Requires 3 Pcs AAA batteries (
NOT INCLUDED
)
PRODUCT USEAGE
Pairing Methods:
You can control light directly with the remote if channel ID is the same as Light ID.
You can control various lights if the remote ID is set to 0(number zero).
If Remote ID is different from Light ID and set not to be 0(number zero), restart the light and set the light ID to be any number between 001-008. Click 4 times of the number button, if light turn off automatically, it indicates the light and remote has been paired successfully. Long press to turn on the light.
Button Functions:
HSI/KELVIN: Rotate the knob to change different color; press to change different functions on the LCD screen.
DIMMER: Adjust brightness
SHIFT: Switch to different functions(RGB,DIMMER,CCT). Four buttons after "SHIFT" are used to change different parameters accordingly.
MENU: Remote controller standby setting (10-60 seconds).
ID: Use to set remote channel ID. Press button"HSI/KELVIN" to locate channel ID and then rotate this button to change different IDs.
SPEED-: Lower down the different scene speed.
SCENE: Scene setting.
SPEED+: Speed up the different scenes.
001-008: (Corresponds to the small square in the upper right of the LCD screen. Solid means ticked, otherwise not) Used to pair the light, refer to the pairing method. Long press can turn on/off light; Short presss control tick or not. Only light is ticked, the functional button works.
ALL: Long press to turn on all lights that are ticked; short press to turn on/off remote controller.
USB: Use to upgrade the remote,

can not

be used as a charger port.
PRODUCT VIDEOS
PRODUCT IMAGES