Regular price
$255.00 USD
Regular price
$309.00 USD
Sale price
$255.00 USD
Unit price
per
Sale
Sold out
Share
View full details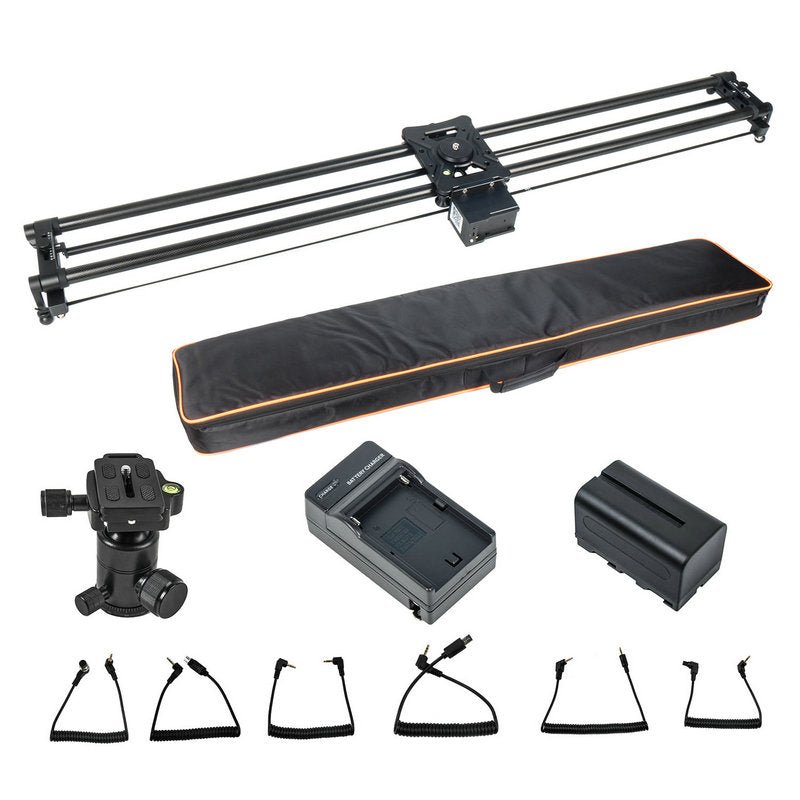 PRODUCT INFORMATION
The motorized parallax slider with Bluetooth allows panning of a camera during the slider motion adding add an entirely new dimension to your video. The slider provides the ability of tracking a subject within the center of your shot or the ability to create a wide panning motion creating a wide panoramic effect manually or via the Bluetooth app. The rate of the panning effect is easily tuned at the end of the rail. The aluminum carriage is fitted with precision bearings which moves smoothly and quietly along the rails. The slider can be used on a table or ground via the adjustable feet. The slider can be mounted to a tripod or stand with either a 3/8-16" or 1/4-20" screw.
The Slider is powered by the included NP-F750 style battery.
Available in 3 different lengths.
| | |
| --- | --- |
| Model | Length |
| S05-80 | 80cm - 31.5in |
| S05-100 | 100cm - 39.4in |
| S05-120 | 120cm - 47.2in |
Each slider comes with 6 cables ensuring a wide variety of camera will interface. Here is a list of the 6 cable styles and cameras that they connect to:
L1 Style:
Panasonic: GH4
Laica: Digilux2, Digilux3
S2 Style:
Sony: a7/a7s/a7r/a7m2/ a6500/a6000/RX100
C1 Style:
Canon:70D,60D,700D,650D,550D,500D,450D,400D,350D,300D,100D,1100D,1000D,G10,G11,G12
Pentax: IST-D,IST-DL,IST K100D, K100DL,MZ-6,ZX-L,MZ-L,K7D,K10D,K20D,K100D,K110D,K200D
Sumsung: GX-1LGX-1S
Contax:N645
C3 Style:
Canon: 7D,6D,5D2,5D3,5D4,40D,30D,20D,10D,1D,1DX,1Ds MarkIII,1Ds MarkIV,D60/30,1v EOS-1v, HS/EOS-3
N1 Style:
Nikon: D800,D700,D300,D300S,D200,D100,N90S,D1 series,D2 series,D3,D3S,D3X,D4,D200,D1H,D1X,D2,D2H,D2X,D2XS,D2HS,F5,F6,F90,F90X,F100
N3 Style:
Nikon: D600,D610,D7100,D7000,D90,D5200,D5100,D90,D3200,D3100
PRODUCT IMAGES
INCLUDED CABLES
What's Included