SKU:CAME-SPRY
Regular price
$298.00 USD
Sale price
$98.00 USD
Unit price
per
Sale
Sold out
Share
View full details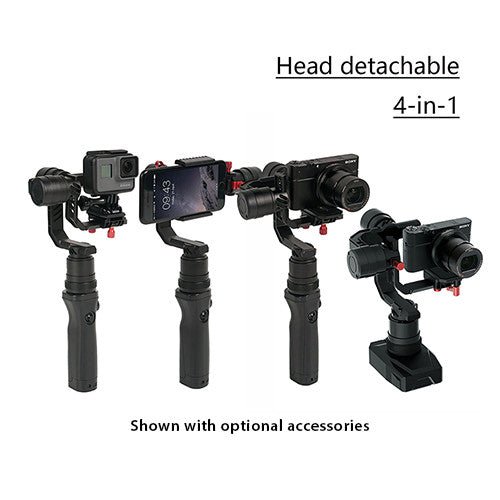 Gimbal Basics
Before purchasing our Came-TV Gimbals, we recommend checking out our Came-TV Gimbal Basics Page.
In an effort for 100% customer satisfaction we would like you to know all the basic steps and information before purchasing our gimbals to insure that you know what goes into owning one.
Please visit our Gimbal Basics Page by Clicking Here.
Feel free to ask us any questions before purchasing by Contacting Us Here.
PRODUCT INFORMATION
The CAME-TV SPRY is our innovative 4-in-1 gimbal that comes with three different heads that can be quickly interchanged to hold a smart phone, GoPro, and point-and-shoot cameras up to 1.1 lbs . When using most Sony cameras (ex: Sony RX100*), there are 4 buttons located on the handle that will allow you to control the camera directly such as zooming in out, picture focus, and image capture/video record. The included Bluetooth remote will control an iPhone when coupled with the "BT Shutter" application.
* Note: Compatible with the Sony RX100 versions 4,5 & 6, 7 not compatible with the Sony RX100 versions 1,2 & 3.
The pan motor can be configured on either side of the camera to provide efficient cable routing and access to either side of the cameras and phone. All motors rotate a full 360 degrees without limitation for greater range and flexibility during operation.
The SPRY Base is an optional part that includes a larger battery for longer run time and has threaded mounting incorporated in the base to allow mounting. Some creative mounting options could be a skateboard or underslung on a car, the threaded mount allow for mounting to a fixed object.
Weight
With Battery: 1.21 lbs (0.55kg)
Without Battery: 1.1 lbs (0.5kg)
Product Videos
Review Videos
3 in 1 Gimbal for GoPro, Point & Shoot Cameras & Smartphones - via Tom Antos
Came-TV Spry 3-in-1 gimbal- Newsshooter at NAB 2017 - via Newsshooter
PRODUCT IMAGES
Included is a threaded cup for holding the SPRY
WHAT'S INCLUDED